Buy Black American Flag License Plate Heavy Duty Max Stealth S14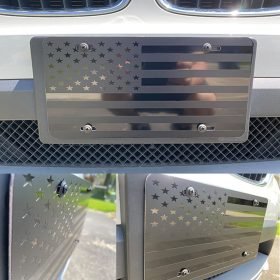 Max Level Stealth Tactical American Flag Heavy Duty Aluminum License Plate Subdued S14
Features a solid Industrial/commercial strength heavy duty METAL black license plate as a base, with the design created through the application of a high-quality outdoor durable matte black vinyl decal on top designed to provide a stealth flag appearance.

Why buy Black American Flag License Plate?
SOLID METAL Industrial/Commercial Strength 0.50 GAUGE black color rust free aluminum license plate, Thickest, the most sturdy & durable, heavy duty one piece metal plate on the market.
TACTICAL STEALTH look on black metal license plate.
Original & Unique Exclusive Design manufactured only by CustoMonsterDesigns.
Official CustoMonsterDesigns product, Made in USA.